Professional Grass Cutting Services for homes in Oakville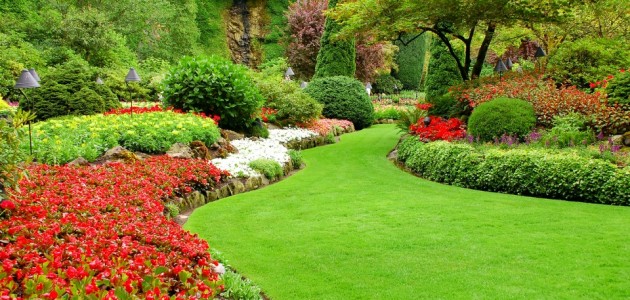 We have been trusted with cutting grass for the finest homes in Oakville for many years.
Fortunately, we continue to cut lawns and provide landscape services to most of the same satisfied clients that have stuck with us since day one.
Why is it that Our Customers Like to Keep Us Around?
Our customers know their lawn will always be cut using sharp equipment and using professional techniques.
This ensures a healthy turf and that means a better-looking lawn.
When the blades aren't sharp, they will rip your grass rather than cut it. Ripping grass can create injured blades that will eventually allow diseases and pests to invade your lawn.
We use professional equipment that is regularly sharpened and maintained to keep everything in top condition – especially during the busiest part of the grass cutting season.
This also helps us to be faster and more efficient when we service your property.
Your lawn will usually be cut once a week, but we will mow it as is needed throughout the entire grass cutting season.
We know that every property is different…  with some having unique obstacles to work around when cutting grass. Sometimes this includes natural challenges like steep slopes and also the man-made obstructions like boulders and landscaping structures.
But we know how to work around them. So you can be assured that regardless of what the unique challenges are for your property, we can deliver the end result you are looking for.
Complete Grass Cutting Service in Oakville
Grass Cutting – We vary the direction so we don't cut your grass the same way each week. If we cut your grass vertically one week, it will be cut horizontally the next. The reason for this is to avoid creating ruts in the ground. That can be caused by the wheels of grass cutting machines compacting the soil from going over the same path again and again.
Trimming – Lawn cutting services will also include trimming around the edges of your driveway, walkway and anywhere the grass line ends with respect to your property.
Blowing – Greenways will also blow to clean up the clippings of grass that may have landed on your walkways and/or driveway. We will leave your property looking clean and presentable before we leave.
What to Expect from Greenways Week After Week
At Greenways, we will ensure a practical and predictable schedule when cutting your grass.
Proper lawn cutting maintenance throughout the growing season requires a consistent, reliable and professional team to show up.
We're committed to showing up when we say we will.
Often you're just not able to deal directly with the owner of a company where the owner isn't always accessible to you. You can be assured that Steve, the Greenways Landscaping proprietor will always be available to answer any questions you may have and will be on site to ensure all work is completed in a diligent and professional manner.
Request A Quote for Cutting Your Grass
Deal directly with Steve, Greenways Landscaping proprietor, to personally consult with you and discuss the most effective way to manage your lawn care needs.
Simply call 905- 464-5789 to arrange this.
Greenways Landscaping competes on delivering quality – not price!
Need More Than Grass Cutting?
Pop over to our Residential Services page to see what else we do. Or, just call and ask Steve.
Professional Grass Cutting Services in Oakville by Greenways Landscaping 905-464-5789